Celebrity Parents and Their Kids at the Same Age
Many of us dream of living the life of a celebrity. We can't help but imagine what it would be like to be invited to red carpet events and hang out with other famous people. However, it's not all about the glitz and glamour after all. While it cannot be denied that celebrities often have tight schedules, some still managed to have a family of their own. Many have children who have made their lives worthwhile. By default, they are partly famous with credits to their parents. Sadly, this can be a double-edged sword. While they have cushy lives, they may come under much media scrutiny. Some celebrity parents keep the kids away from the spotlight for their sake, while others prefer to flaunt their children to the world.
Regardless, many people compare these celebrity parents to their kids. Sometimes, their achievements are compared to their kids' when they were at the same age. While some of them have already established successful careers, others are just about to get their big break or simply growing up as a regular kid.
Angelina Jolie & Zahara Marley Jolie-Pitt
One of the most prominent actresses of the 21st century, Angelina Jolie has never lived a day without avoiding the spotlight. Her career and personal life have been extensively followed for years by both her fans and the media. Recently, she parted ways with long-time partner Brad Pitt. They were granted joint custody of their six children via a settlement between their attorneys. Her eldest daughter, Zahara, has been already making efforts to follow in her mother's footsteps at age 16.
When Jolie was the same age as her daughter today, she was just making her start in showbiz. While she became committed to her career in 1991, she had great difficulty landing into roles in the beginning. Some of her first acting credits were in five films produced by her brother, James Haven. Despite her early difficulty, she eventually made her way up the notability ladder, and by 2001, she had become a promising star.
Arnold Schwarzenegger & Katherine Schwarzenegger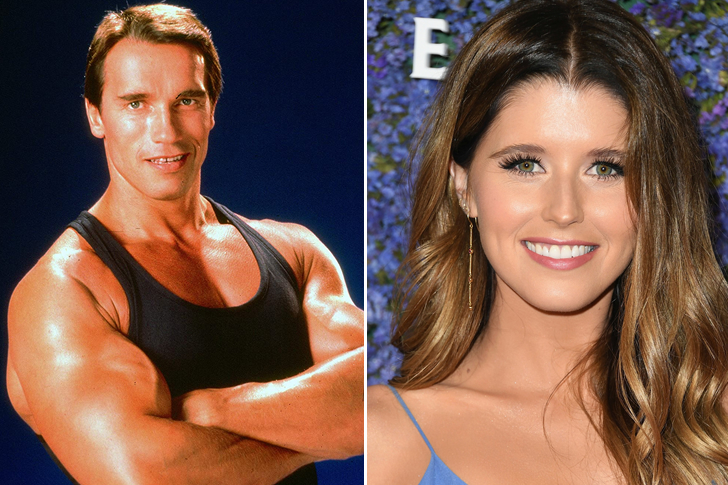 Arnold Schwarzenegger has been a bodybuilder, actor, politician, and entrepreneur. In all four of his professions, he became highly successful. While he became first famous as a legendary bodybuilder, he is best known as the Terminator. Aside from that, he became Governor of California and had numerous investments in many industries. His five children also became successful in their own right. Katherine, in particular, has made a name for herself as an author. Through her mother Maria Shriver, Katherine is also related to the influential Kennedy family.
When Arnold was at the same age as his daughter today, he was already a bodybuilding legend. At that point, he raked in three consecutive Mr. World titles and six consecutive Mr. Olympia titles. In addition, he became the youngest Mr. Olympia ever, a title he won at age 23 in 1970. During this time, he had begun his transition to acting, mostly starring in supporting roles. To his credit, he was also awarded a Golden Globe for New Star of The Year for Stay Hungry.
Andie MacDowell & Rainey Qualley
Andie MacDowell is a well-known figure during the 1980s and 1990s. She became famous for her roles in numerous films Green Card, Groundhog Day, and Sex, Lies, and Videotape, which is given credit as her breakout role back in 1989. Before that, MacDowell has been well-known as a model for various fashion brands like Yves Saint Laurent, Armani, and Calvin Klein. As for her children, she has a son and two daughters. Her daughter Rainey, in particular, is an actress and musician herself. Rainey, at age 31, has released singles and extended plays since 2015 under the name Rainsford.
When MacDowell was just the same age as her daughter today, she was cast in Sex, Lies, and Videotape. When the movie was released in 1989, it received critical praise and became her breakout role. In addition, MacDowell won numerous awards and garnered countless nominations, including a Golden Globe nomination, for her role. This led to her casting in a slew of highly successful films later on.
Ashton Kutcher & Wyatt Isabelle Kutcher
Ashton Kutcher has been a well-known and highly successful figure in Hollywood for decades. He made his start during the late-'90s, starring in That '70s Show. He then appeared in a slew of films until he became first widely known for producing the TV series Punk'd. Outside of acting, he is also an entrepreneur and venture capitalist. Over the years, he made investments in more than 60 companies through his venture capital firm, A-Grade Investments. Kutcher has been married to actress Mila Kunis. Together, they have two children. Wyatt Isabelle, their eldest at age 6, has been taken care of well by them.
When Kutcher was at the same age as Wyatt today, he was still a child living with his parents and brother at their home in Cedar Rapids, Iowa. Kutcher has a twin brother, Michael. Michael had a heart transplant during this period. Ashton's relationship with his twin brother, along with Michael's cerebral palsy, had a great impact on Kutcher's outlook in life.
Barbara Walters & Jacqueline Dena Guber
Barbara Walters is considered to be one of the most well-known journalists in the U.S. She became heavily associated with the American channel ABC. She is given credit to some of the most iconic interviews with historical figures including Anwar Sadat, Menachem Begin, Fidel Castro, and Indira Gandhi. While she has retired from the industry in 2015, her contributions over the years have been quite influential. Today, she is taken care of by her daughter, Jacqueline. At age 53, Jacqueline has been attentive to her mom while focused on her business on therapy.
When Walters was at age 53, she was already a prominent figure in ABC. Her interviews with world leaders and prominent personalities since her start in 1976 made her a household name. At the time, her biggest scoop was her joint interview between Begin and Sadat. This was also when Israel and Egypt were discussing terms, which eventually was finalized in the form of the Camp David Accords of 1978.
Ben Stiller & Ella Olivia Stiller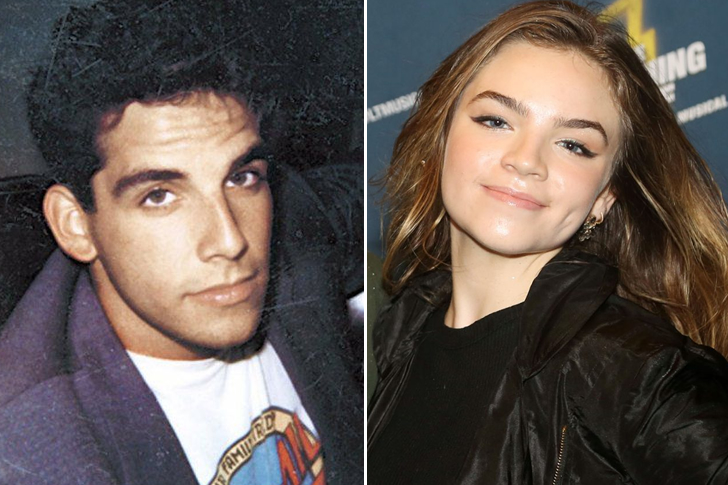 Ben Stiller has been an icon of popular culture for decades. His famous roles in Zoolander, Tropic Thunder, the Madagascar series, and the Night at the Museum series made him endearing to his fans. Aside from acting, Stiller has also worked behind the camera, with more than ten movies to his credit as producer and director. His directorial debut, Reality Bites, in 1994 is considered to be a cult classic today. Stiller shares two children with Christine Taylor. His eldest child at age 19, Ella Olivia, often joins her dad in film premieres.
When Stiller was just 19 years old, he was just an up-and-coming star. Previously, he already made his acting debut at age 9 on Kate McShane, which starred his mother Anne Meara. After dropping out of film school at UCLA, he moved back to New York to pursue an acting career. He eventually managed to find his footing in the industry by producing short films to garner attention.
Beyoncé & Blue Ivy Carter
Beyoncé is widely regarded as a global pop superstar. Initially starting her rise to fame as the lead of the girl group Destiny's Child, she found considerable success as a solo artist. Her most famous songs include Halo, Crazy in Love, and Single Ladies. Over the years, she has become a juggernaut, with more than 118 million records sold and countless awards to her credit. She is married to fellow artist Jay-Z. Together, they have three children. Their eldest, Blue Ivy, already made news before she was born. Today, at age 9, Blue Ivy has already made a name for herself as a singer, becoming the youngest winner of a BET Award at age 8.
When Beyoncé was the same age as Blue Ivy, she and childhood friend Kelly Rowland formed the girl group Girl's Tyme along with LaTavia Roberson. Initially, the group didn't find success, which led to its restructuring. Eventually, the group's name was changed to Destiny's Child, which became highly successful and iconic.
Billy Dee Williams & Hanako Williams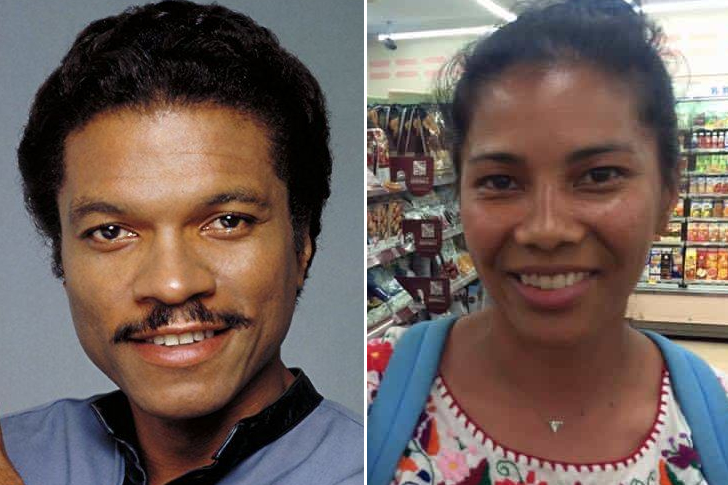 Billy Dee Williams has been an icon of American showbiz. He is best known for his role as Lando Calrissian in the Star Wars franchise. Recently, he appeared as Lando in The Rise of Skywalker in 2019. Aside from that, Williams has appeared in several acclaimed movies such as Brian's Song, Batman, and Lady Sings the Blues. In addition to his acting career, he is an accomplished painter and novelist. His daughter, Hanako, has certainly followed her father's footsteps in the world of art. At age 48, Hanako is a gallery manager for the contemporary art gallery Gagosian in New York.
When Williams was at age 48, he had become a world-famous star. Two years prior, in 1983, he played Lando in Return of the Jedi, which became a box-office hit. Aside from that, Williams appeared in TV series and movies during the period such as Dynasty, Chiefs, and Double Dare.
Billy Joel & Alexa Ray Joel
Billy Joel is an icon of American music. Known as the Piano Man, he had considerable success as a solo artist since the 1970s. To his massive credit, Joel has garnered countless accolades and sold 150 million of his records worldwide. This made him one of the most successful musicians of all time. Following him, daughter Alexa Ray has made a name for herself in music. She is Joel's daughter with Christie Brinkley. At age 35, Alexa has achieved considerable success through performing in charity drives and fashion shows.
When Joel was 35 years old, he had just released his latest album, An Innocent Man, in 1983. The album contained the songs Uptown Girls and Tell Her About It. To his credit, he was nominated for two Grammys – one for Album of the Year and another for Best Male Pop Vocal Performance for Uptown Girl. However, Michael Jackson's Thriller won those two awards, instead. Regardless, Joel's album was well-received and highly successful.
Billy Ray Cyrus & Miley Cyrus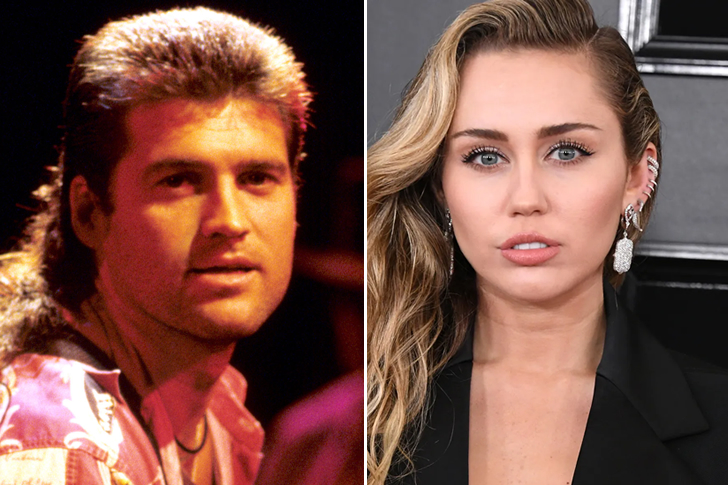 Billy Ray Cyrus is a well-known country singer and the patriarch of the Cyrus family, whose members have had successful careers in both music and entertainment. Billy Ray himself is best known for his hit single Achy Breaky Heart, which popularized the line dance. Through his relationship with two women, he has six children in total. Miley, in particular, has been among the most famous and successful of the siblings. She was the main star of Hannah Montana, alongside her father. At age 28, Miley has gone from teen idol to pop superstar, becoming one of the music industry's juggernauts to an admirable degree.
When Billy Ray was at the same age as Miley, he was a struggling artist looking for a contract in Los Angeles. Previously, he played for a band called Sly Dog. His hardships included living in his neighbor's car. However, this changed a year later, when Billy Ray signed a contract with Mercury Nashville. This paved the way for his successes later on.
Bruce Springsteen & Jessica Springsteen
One of the most successful and iconic artists of all time, Bruce Springsteen, knows how to raise the energy of the crowd. His lyrics are known for being socially conscious and quite energetic. His most famous and successful album was Born in the U.S.A. To his credit, Bruce has received numerous accolades, including 20 Emmys, and has sold more than 150 million records. His three children also have seen success in their own right. Jessica, in particular, found success as an equestrian. At age 29, Jessica had won numerous championships in the U.S. and was slated to join the Olympics on multiple occasions, with the most recent in 2021.
When Bruce was just 29, he had experienced his breakthrough period. Four years prior, he released Born to Run in 1975, which became highly successful. In 1978, the singer embarked on a cross-country tour called Darkness Tour. The tour became legendary for its intensity and the length of each show.
Charlie Sheen & Cassandra Estevez
Charlie Sheen is no stranger to both the spotlight and the headlines. He is best known for his role as Charlie Harper in the hit sitcom Two and a Half Men. Other notable films and TV series he starred in include Wall Street, Spin City, Anger Management, and Platoon, among others. His stellar performances garnered him accolades and praise, including Golden Globe and Emmy nominations. Throughout his life, the actor has fathered five children from three different marriages. His eldest, Cassandra, was his child with his high school sweetheart Paula Speert. Today at age 36, Cassandra has mostly lived under the radar and is a mother to a daughter, making Charlie a grandfather.
When Charlie was 36 years old, he was playing Charlie Crawford in Spin City. At the time, it was his first role on television. Previously, his acting credits were exclusive to film. While he only lasted in the series until 2002, this became a springboard for his casting on a brand-new series called Two and a Half Men in 2003.
Chris Elliott & Abby Elliott
Chris Elliot is an actor, comedian, and writer who became first widely known for his recurring appearance on Late Night with David Letterman. Some of his notable films and TV shows include Groundhog Day, How I Met Your Mother and Cabin Boy. His writing career has won him four Primetime Emmys. His two children with Paula Niedert have carved out successful careers for themselves to a respectable degree. Abby, in particular, has become well-known for being a cast member on Saturday Night Live from 2008 to 2012. Today, at age 33, she has mostly focused her career on television, appearing in Odd Mom Out, Indebted, and Star vs. The Forces of Evil.
When Chris was age 33, he was cast in the movie Groundhog Day as Larry. When the movie was released in 1993, it became a sensation and was critically received. Previously, Chris had just ended his pet project, Get a Life. While it proved to be divisive among executives at Fox due to its surreal theme, the series eventually was well-received years later.
Christie Brinkley & Sailor Lee Brinkley
Christie Brinkley is one of the most prolific and iconic models of all time. She first gained worldwide fame through her numerous appearances, including cover appearances, on Sports Illustrated during the 1970s. This success, along with her long-term relationship with cosmetics brand CoverGirl made her a prominent face in the fashion industry. Later, she expanded her career into acting, entrepreneurship, and writing. Today, her various ventures and investments have made her wealthy and successful. Christie has three children from three relationships. Her youngest, Sailor, has followed in the footsteps of her mom. At age 22, she has landed a shoot with Sports Illustrated, just like her mother did in the past.
When Christie was just 22 in 1976, she was a rising star in the fashion world. Her Sports Illustrated fame would not come until three years later. At the time, she was making multiple appearances for Glamour magazine. In addition, she just had her second year with CoverGirl. This eventually turned into a two-and-a-half-decade relationship with the brand.
Christina Aguilera & Summer Rain Rutler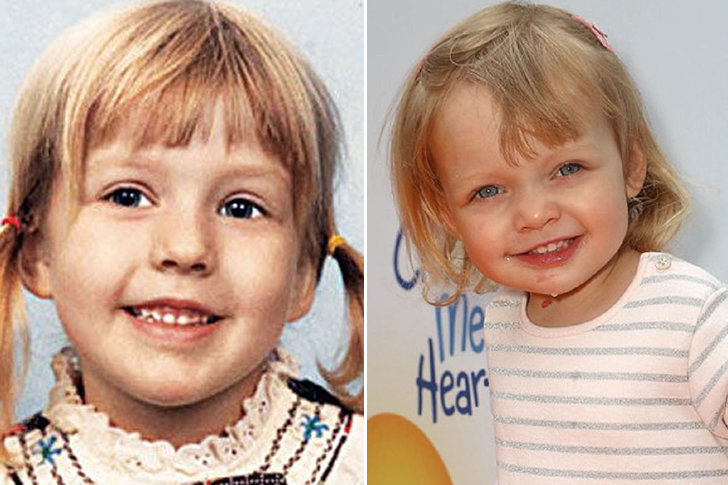 Christina Aguilera's daughter, Summer Rain Rutler, turned six in 2020, and Christina couldn't be any more proud to be a mother of her mini-me. In a post shared by Christina, she expressed how smart and creative her little girl is. Likewise, she praised Summer's fearless and adventurous personality. Chances that Summer might follow her mommy's career are likely. Notably, Summer shown potential when she joined Christina on stage to sing Beautiful. Christina started to develop an interest in singing when she was about the same age as Summer.
After joining several singing competitions, Christina had her first casting credits as a member of The Mickey Mouse Club, together with Ryan Gosling, Britney Spears, and Justin Timberlake. After some years off, Christina's powerful comeback includes singing Reflection, the soundtrack of Disney's Mulan, followed by her hit single Genie In a Bottle. Whatever path Summer might choose, we are sure that Christina will support her and always be proud of Summer.
Chuck Norris & Mike Norris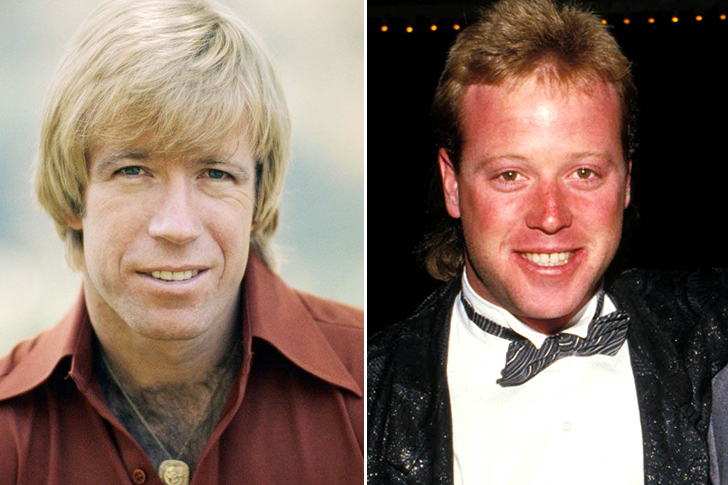 Chuck Norris is one of Hollywood living legends. He is best known for his death-defying stunts and martial arts skills that he performs himself. However, it is his dedication and hard work that led to his successful acting career.
Chuck's film debut was as the antagonist of Bruce Lee in the film Way of the Dragon. After playing small roles in several films, he got his starring role in the film Breaker! Breaker! His breakthrough film Missing in Action caters to his success internationally. The said film was late made into a franchise that stabilized him as a Hollywood action star. Well, it turns out that the adage "like father, like son" is true for him, since his son with Dianne Holecheck, Mike Norris, followed in his footsteps and became an actor, director, and producer as well. Mike has starred in several films with his father since 1979. He eventually made a name for himself by the same age as his father does. Mike has acting credits in many films such as Forced Vengeance, Born American, and Delta Force 3: The Killing Game.
Cindy Crawford & Kaia Jordan Gerber
Another iconic mother-daughter pair in Hollywood is Cindy Crawford and her daughter Kaia Jordan Gerber. Cindy Crawford is an ultra-successful American supermodel known worldwide known for her trademark mole. She reigned as the top model in the 1990s and became a cover in almost all fashion magazines and endorsed many high-end fashion brands. Cindy also ventured into several business investments and an acting career.
She also championed family life as she has been long married to Rande Gerber, with whom she has two beautiful children. Her daughter, Kaia, followed in her footsteps and has become a runway model like her. Notably, Kaia and Cindy began their modeling career at the same age. Kaia has also ventured into the acting industry. As such, the two walked together during the 2018 Spring Fashion Week and were frequently seen together in several events and projects.
Clint Eastwood & Scott Eastwood
The legendary actor Clint Eastwood is the actor best known for his long list of films and directorial success. The Million Dollar Baby director and actor have won several awards and now a recipient of the AFI Life Achievement Award. Among his memorable films to date are Every Which Way but Loose, Escape from Alcatraz, and Heartbreak Ridge. Like Dirty Harry, as what Clint Eastwood is famously known for, is not just a tough guy on screen but also in real life as a father. Scott Eastwood, his son with Jacelyn Reeves, could attest to his father's tough love.
Scott, now age 35, is also an actor who stars in several blockbuster films such as Fate of the Furious, The Longest Ride, and Pacific Rim: Uprising. Scott credits his success to the values that his father taught him when he was still young. Scott says that Clint did not spoon-feed them, and he even got punched by his father for not looking after her younger sister. For that, he learned to be self-reliant, responsible, and be grateful for the job that he has, be it small or big roles.
Courteney Cox & Coco Arquette
Ever since Courteney Cox graced the TV screens in Friends until she starred in her own show Cougar Town, it seems like her beauty never changed. Although she has been married, had a child, and became single again, she was able to maintain her good physique and youthful look. As such, it seems that Courteney is also a cool mom to her daughter, Coco Arquette, who just turned 16 and is a complete carbon copy of her.
The actress is well recognized as Monica Geller in Friends. As the show became the most-watched and syndicated show in the US, it made Courteney one of the highest-paid TV actresses during her time. She also starred in the epic horror film Scream, where she met David Arquette. David and Courteney got married in 1999 but separated in 2010. Together, they share daughter Coco Arquette, born in 2004. Coco, though talented and beautiful like her mother, has not joined the entertainment industry. She probably still has to finish her college degree before she officially joins the industry or pursues another career.
Daniel Craig & Ella Loudon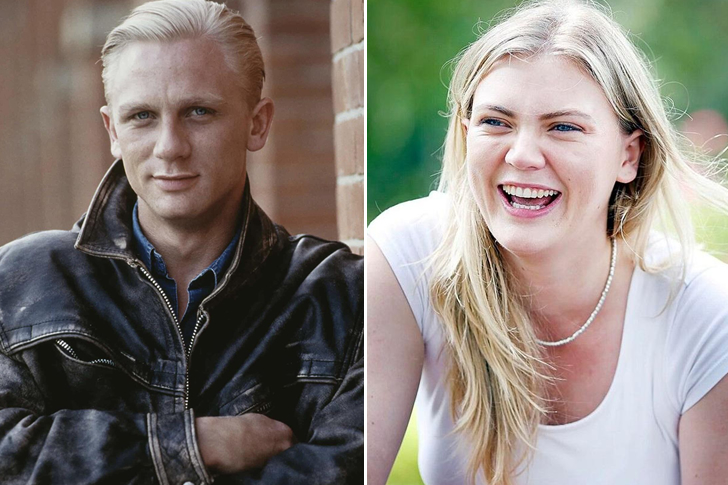 When Daniel Craig became the new James Bond, the world began to follow his every move. Seemingly, the actor is very private and only wants the media to focus on his career. Apparently, as the world wants to know more about Daniel, digging his connections can't be helped. For that, the media got to know his eldest daughter, Ella Loudon.
Daniel is a British actor who first gained attention through his appearances in the film Elizabeth in 1998 and Lara Croft: Tomb Raider in 2001. He later gained worldwide recognition and credits when he was named the next James Bond starting on the film Casino Royale in 2006, where he also won the best actor in a leading role in BAFTA awards. In 2011, Daniel secretly married the actress Rachel Weisz. Their wedding was attended by only four of their closest friends and families, including Rachel's son and Daniel's daughter Ella. Ella is the 27-years-old daughter of Daniel with his former wife, Fiona Loudon. Like her father, the model-actress is also into an adrenaline-pumping activity such as motorbikes.
David Beckham & Brooklyn Beckham
David Beckham is one of the most popular athletes in the world. He is a former professional football player who won league titles for several countries including England, United States, Spain, and France. After almost 20 years of playing professional football, he retired and used his investment money to establish his own football club. Apart from being a skillful football player, David is also known for his celebrity family. He married Victoria Adams, former member of the Spice Girls, in 1997. Months before their wedding, she gave birth to their firstborn, Brooklyn Beckham.
Since then, the power couple expanded their family into six while winning their respective careers. Although it seems like just yesterday when they held their firstborn, Brooklyn, now 22, is engaged. The model and photographer announced his engagement to the actress Nicola Peltz. It seems like he is following in his parents' footsteps by marrying young!
Demi Moore & Rummer Willis
Demi Moore is one of the breakthrough actresses and film siren in the late 1980s and 1990s. She claimed her success in the films Ghost, Indecent Proposal, and her controversial role in Striptease. Likewise, her high-profile marriage with Bruce Willis gave her popularity an extra boost as one of the power couples of the 1990s. Together, they have three lovely daughters, namely Rumer, Tallulah, and Scout.
Despite giving birth to three girls, Demi receives overwhelming compliments for maintaining her physique and youthful glow. Likewise, Demi earned praises for her good co-parenting relationship with ex-husband Bruce. Now that she is in her 50s already, it seems like her daughter Rumer is following in her footsteps. Slowly, she is making a name for herself and accumulating credits in the acting industry. As such, the young lady was cast in the 2015 Broadway show of Chicago, where she played Roxie Hart.
Dennis Rodman & DJ Rodman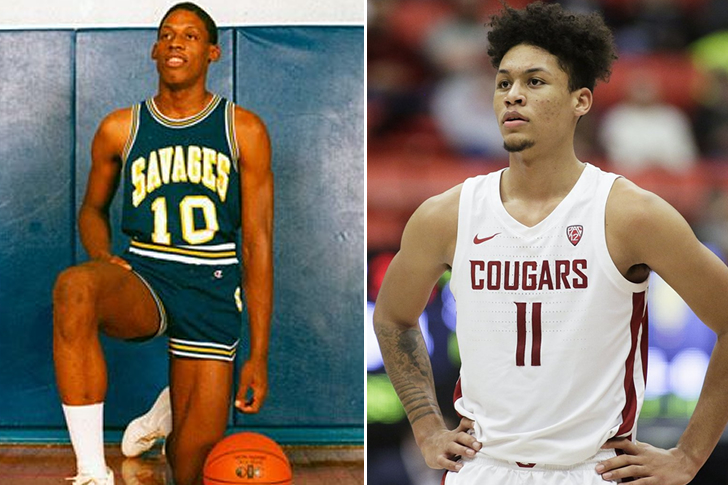 Dennis Rodman is the legendary basketball player known for his powerful defense skills and rebounding abilities that contributed to his team winning multiple championship games. He played small forward but later on became a power forward for the rest of his career. He played for the Chicago Bulls, the LA Lakers, and the Dallas Mavericks, just to name a few. Apart from the impressive basketball career that brought him a massive credit score, Dennis is also known for his aggressiveness and infamous antics. Dennis was quite a personality that led the tabloids loves to cover in the past.
In 2006, Dennis had his final moments in his basketball career before jetting off to retirement. Apparently, another Rodman was on the rise to relive Dennis's name: his son, Dennis Thayne Rodman Jr. DJ is the 20-year-old son of Dennis Rodman to Michelle Moyer. Currently, DJ is playing college basketball and will probably play pro in the NBA when the time comes.
Denzel Washington & John David Washington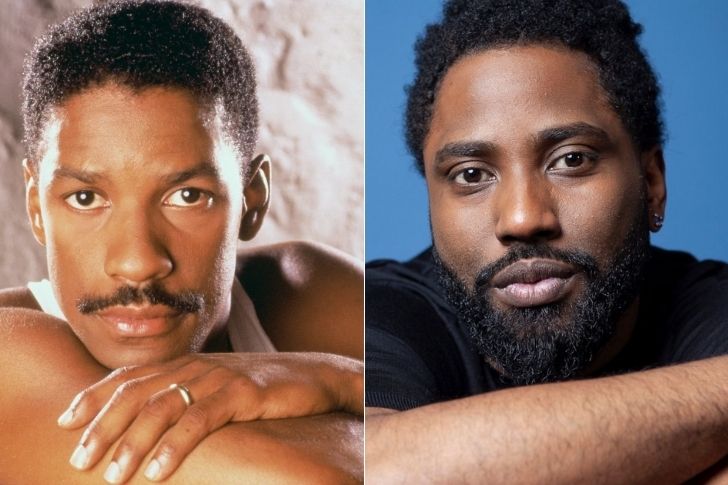 Denzel Washington is among the most respected actors in Hollywood. He has received several awards to his credits, including three Golden Globes and two Tony Awards. Denzel is best known for playing many real-life personalities. Among his highly acclaimed portrayals were in the films Malcolm X, The Hurricane, and American Gangster. Denzel was also praised for his action-thriller films such as Training Day, Glory, and The Taking of Pelham 123. Not only did he maintain a controversy-free career, but he is also admired for his lasting marriage with his wife Pauletta Pearson. Together they have four children who are all college degree holders.
His son John David Washington has followed his dad's career upon shifting from playing professional football. Like his father, John David is starting to gain a prolific acting career and has acting credits in films like Tenet and Malcolm & Marie.
Diana Ross & Tracee Ellis Ross
Diana Ross is one of the living legends of modern music. Diana was first known for leading the band The Supremes before going solo and popularized massive hits such as Ain't No Mountain High Enough, Endless Love, and Chain Reaction. Her success reached the ceiling that made her an international singing sensation that granted her several credits. Due to her achievements throughout her decades-long career in the industry, she was awarded Grammy Lifetime Achievement Awards in 2007. Additionally, Diana is among the most impersonated artist in history, aside from Michael Jackson.
Likewise, she passed down her talents to her children, who are working in the entertainment industry now. Tracee Ellis, her daughter with her first husband Robert Ellis Silberstein, followed in her footsteps and became a singer and actress. Currently, she is part of the television series Black-ish and the Black-ish spin-off Mixed-ish.
Drew Barrymore & Olive Kopelman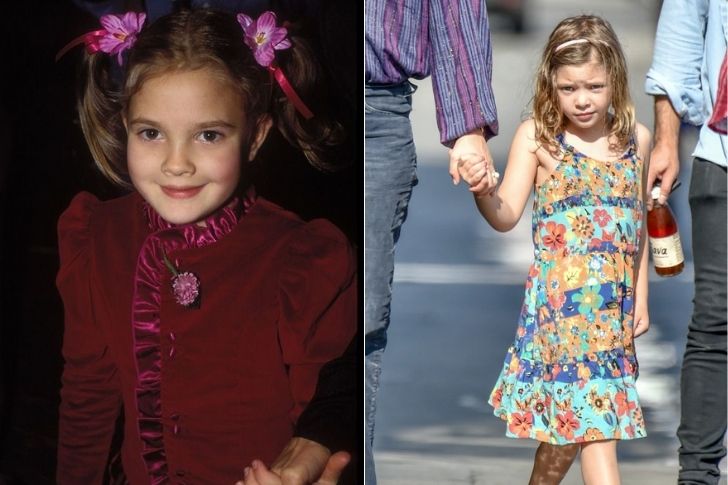 Drew Barrymore is a former child actress who remains a prominent actress today. Drew literary grew up in front of the screens. She has her first TV exposure at the age of eleven months for a commercial. Drew's first film break was in Steven Spielberg's E.T. the Extra-Terrestrial in 1982. Since then, she was hailed as the most famous child star of all time. Behind her successful career and high credit report at a young age, Drew had a troubled childhood that resulted in her emancipation at the age of 14.
Despite her turbulent personal matters, she remained professional on set and swiftly crossed to mature roles as she grows up. Among her most acclaimed films are Charlie's Angels, 50 First Dates, The Wedding Singer, and Never Been Kissed. Now, Drew is done with her old antics. She is far from jumping from one relationship to another that ends quickly as it began. She credits her maturity as a person to her daughters, who mean the world to her. Drew had Olive and Frankie with her former husband Will Kopelman. Olive, her firstborn, turned eight last year and has similarities to her mom. Unlike Drew, Olive has not joined the entertainment industry. The actress wants her children to have a quiet and private life that she never had growing up.
Dustin Hoffman & Jake Hoffman
Dustin Hoffman is among the most brilliant actors in Hollywood. Dustin is a very versatile actor who does not only concentrate on one genre of acting. He does comedy, action, drama, thriller, and even Broadway. He is best known for his films Midnight Cowboy, Little Big Man, Rain Man, and Kramer vs. Kramer, where he receives an Academy Award. Through the years, Dustin has collected numerous awards such as BAFTA, Emmy Awards, Golden Globes, and Academy Awards. Dustin was also awarded the AFI Lifetime Achievement Award for his success as an actor. Today, he is still active in filming but has veered away from too much exposure. As Dustin is slowly dimming his lights off, he has a son that is ready to take over the spotlight: Jake Hoffman.
Like his father, Jake is also practicing his versatility in the entertainment industry as an actor, director, and writer. He was first noticed in the film Click, where he played Adam Sandler's son. His most recent film credits were in the films The Irishman and Sister of the Groom.
Eddie Murphy & Eric Murphy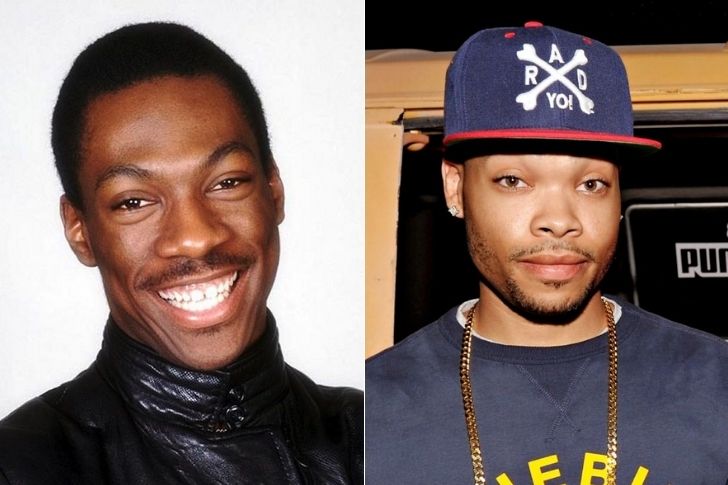 Eddie Murphy is among the most successful comedians in Hollywood. Known for his films Beverly Hills Cops, The Nutty Professor, and Shrek, he is one of the wealthiest comedians as well. Eddie got noticed when he became a cast member of Saturday Night Live. Due to his incredible performance, he was launched as a film actor and starred in his film 48 Hrs. in 1982. It was followed by Trading Places and Coming to America. After two decades, Eddie released its sequel entitled Coming 2 America in 2020. Eddie and the whole cast returned to the screens showing his new role as a king and a father. Though the film is said to be satirical, it has its moral contents that are very timely today, especially for Eddie's case.
It is not hidden to the public that Eddie had a series of relationships that resulted in his ten children. The comedian fathered a whopping total of 10 children. Due to his success, he successfully supported their needs, making his children free from student loans. Eddie's firstborn Eric Murphy is now 31 years old and following in his footsteps in the entertainment industry. Eric is a voice actor and writer who also does comedy.
Eric Roberts & Emma Roberts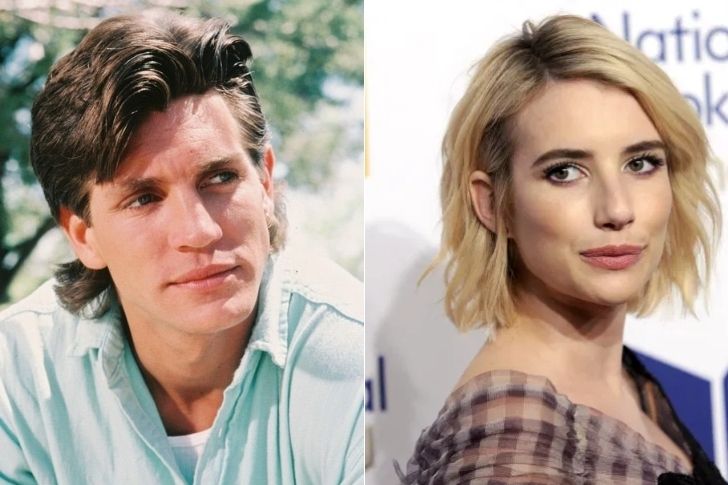 Eric Roberts is probably known as the older brother of the superstar Julia Roberts. Apart from being the brother of a stellar actress, Eric is also a brilliant actor who started his career in the entertainment industry in the early 1970s. His most notable films are the King of Gypsies, Runaway Train, and Star 80. Eric has more than 600 movie credits and was nominated for several awards. Eric was constantly well-praised for his effective acting skills in portraying villain characters, such as in The Dark Knight and The Expendables.
In 1992, Eric married Eliza Garrett. They did not have a child together. His only child was Emma Roberts from his relationship with Kelly Cunningham. Like his father and aunt, Emma pursued a career as an actress. Now, Eric is a grandfather as Emma gave birth to her first child in 2020 with Garrett Hedlund.
Faith Hill & Audrey Caroline McGraw
When Faith Hill was 19, she decided to quit her formal education and moved to Nashville to pursue a career in music. She worked from job to job, from a secretary at a music publishing firm to flipping burgers at a local McDonald's, keeping her dream alive. Not long after she married music producer Daniel Hill. In 1993, she would finally release her debut album, Take Me as I Am. It earned a degree of commercial success, which would see her top the charts for four consecutive weeks. It marked the beginning of her rise to fortune and fame. In 1994, she ended her marriage with Daniel, but not long after, she married fellow country musician Tim McGraw.
Tim and Faith have three children, Audrey Caroline McGraw, Maggie Elizabeth McGraw, and Gracie McGraw. Today, their youngest, Audrey is 19 years of age. While at that age, her mother was working from job to job while pursuing her dreams. Audrey is also currently kick-starting her career. She recently graduated from high school and is now venturing to become a model.
Garth Brooks & Allie Colleen Brooks
Garth Brooks is a distinguished country musician. As of recently, he has amassed a great number of fortune and accomplishments. To his credit, he is one of the only artists in history to garner diamond status for nine album releases. Before all that, his humble beginnings were in Oklahoma playing at bars and clubs. At that time, he was 23 years old. In two years, he would move to Nashville to pursue a record deal. His efforts finally bore fruits in 1989 when he released his self-titled debut album. It was a commercial success and thereafter, he had made a breakthrough and would release chart-topping albums one after the other.
Garth's youngest daughter Allie Colleen Brooks is a musician herself. And she just might have an edge over her father. Now at age 24, just last year, her song, Ain't the Only Hell (My Momma Raised) charted peaked at the 30th spot at the Mediabase charts.
Goldie Hawn & Kate Hudson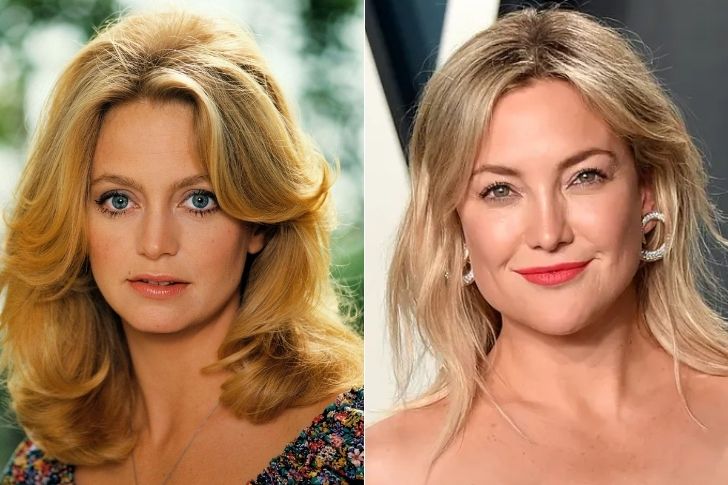 Goldie Hawn is one of Hollywood's most distinguished actresses. She has starred in countless films, but at the age of 42, she was starring in the 1987 film Overboard alongside her longtime partner and fellow actor Kurt Russell. Before that movie, she had just earned an Academy Award nomination for Best Actress to her credit for her performance in the 1980 film Private Benjamin. She may not have won it, but she already had an Academy Award and a Golden Globe Award for Best Actress for her performance in Cactus Flower back in 1969.
Kate Hudson is the famous daughter of Goldie with her second husband, Bill Hudson. Kate is now 42 years old and has also made considerable achievements in her acting career. Like her mom, she also has a Golden Globe Award to her name. She received the Golden Globe Award for Best Supporting Actress for her iconic performance in Almost Famous in 2001.
Gordon Ramsay & Megan Ramsay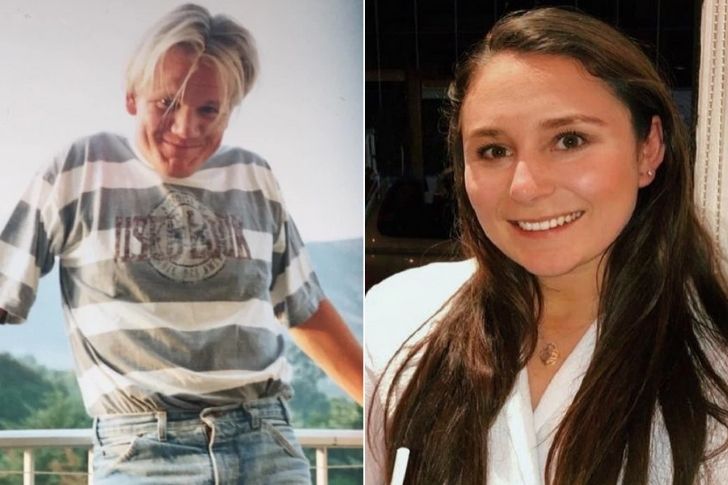 Gordon Ramsay is one of the most famous and accomplished chefs in the world. He has several commercially successful shows, which include Ramsay's Kitchen Nightmares, Hell's Kitchen, The F Word, Hotel Hell, and Master Chef. For his distinguished services to the hospitality industry, Queen Elizabeth II appointed him Officer of the Order of the British Empire back in 2006. Today, Gordon holds seven Michelin stars across his restaurants worldwide. Before all his successes, he started his career as a commis chef at the Wroxton House Hotel. His stay would not last long and he would more job to job, honing his craft. Most notable was his stint as an apprentice of Marco Pierre White.
By the age of 23, he was working with Guy Savoy and Joel Robuchon at Paris. His eldest daughter, Megan Ramsay, is 23 years old and is just starting her professional career. She has just graduated with a degree in psychology and is pursuing an internship with a travel company.
Gwyneth Paltrow & Apple Martin
Gwyneth Paltrow is one of the most successful actresses in Hollywood. She earned her fame starring in several movies such as Shallow Hal, Shakespeare in Love, The Royal Tenenbaums, The Talented Mr. Ripley, and Sky Captain and the World of Tomorrow, among many others. In recent years, she has also starred in the worldwide blockbuster Marvel Cinematic Universe as Pepper Potts. Although she has had a lucrative acting career, she also earns a great deal of revenue from her investments in her lifestyle company Goop.
Gwyneth started her acting career at the age of 17 in 1989, appearing in the TV film High, directed by her father. It would mark the start of her career, but it was not until 1991 when she would professionally start, starring in the film Shout. Today, Gwyneth's eldest daughter, Apple Martin is 16 years old. Unlike her mother, Apple has no plans to pursue acting and is living a normal teenage life, with the occasional appearance in her mother's social media accounts.
Heather Locklear & Ava Locklear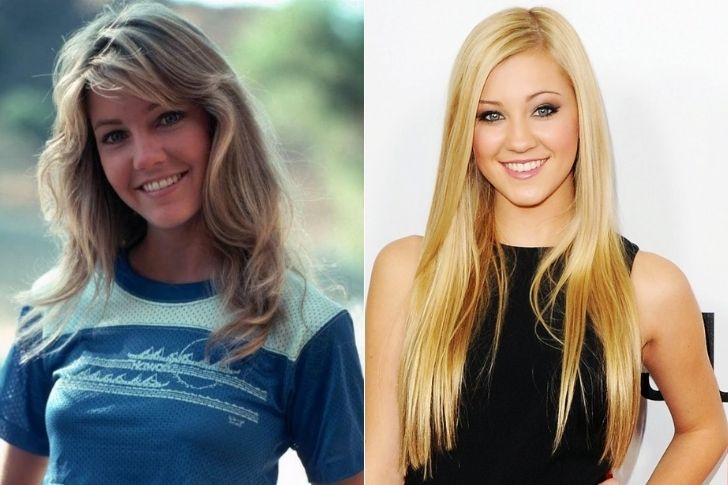 Heather Locklear is a famous American actress who is best known for her performance in the successful TV show Melrose Place as Amanda Woodward. The show spanned for seven years and during those years, Heather earned four consecutive Golden Globe nominations to her credit. Before this successful series, she starred in Dynasty from 1981 to 1989 as Sammy Jo Carrington. This would prove to be a pivotal point in her career as she would collaborate with producer Aaron Spelling. This opened the opportunity for the young Heather to be cast in TJ Hooker and Spin City, which were also TV shows that garnered commercial success. Ultimately, Heather became one of the most prominent TV actresses during the '80s and '90s.
Today, the actress is 59 years old. Her only daughter, Ava Locklear-Sambora, is 24 years old. At that age, Heather was starring in two successful shows, Dynasty and TJ Hooker. Ava, on the other hand, is in the process of making it big in the industry as well. She starred in Judd Apatow's This is 40 when she was 14 and also dabbles in the fashion industry.
Jack Nicholson & Ray Nicholson
During the 1960s, Jack Nicholson was a struggling actor. By that time, he had starred in low-budgeted films such as The Cry Baby Killer and frequently worked with director Monte Hillman on his western films. After these unsuccessful stints, he was in his 20s and resorted to a career, behind the camera. His first success as a writer came in the film The Trip, which starred Dennis Hopper and Peter Fonda. However, his life would soon change when starred in Easy Rider which earned him an Academy Award nomination to his credit. Thereafter, Jack would continue his rise to becoming one of the most accomplished actors in Hollywood history.
Today, Jack is at the wise age of 84 and his son Ray Nicholson is 29 years old. At that age, Jack was spending his time as a writer in the film The Trip and was still in the process of making it big. Ray is also in the process of making a breakthrough in his acting career. He has already starred in several films himself such as The Benchwarmers, The Outsider, and The Outsider. Currently, he is starring in the show Panic.
Jada Pinkett-Smith & Willow Smith
Jada Pinkett-Smith is a famous Hollywood actress and the wife of actor rapper Will Smith. She is famous for starring in films such as The Matrix franchise, Scream 2, Ali, Collateral, Bad Moms, and Magic Mike XX, among many others. Apart from her film career, she has also done voice acting in Madagascar animation films. She has also starred in TV shows, where her career initially began. She was 20 years old when she kick-started her career when she starred in the TV show A Different World from 1991 to 1993 before making a transition into films where she would make a breakthrough, starring alongside Eddie Murphy in The Nutty Professor.
Today, her daughter Willow Smith is already 20 years old. And while, at that age, Jada was still looking for her breakthrough, Willow is having a blossoming career in the music industry. She has worked with distinguished rapper Jay-Z and has several award nominations to her credit.
Jason Statham & Jack Oscar Statham
Jason Statham has risen to be one of the most successful action stars in the movie industry. He was born in 1967in Shirebrook, Derbyshire to a hard-working middle class family. Jason spent his formative years practicing martial arts and playing soccer. He also grew up with Vinnie Jones, a fellow actor and former professional soccer player. Apart from these he had a love for diving, which to his credit, earned him a spot at Britain's National Swimming Squad for twelve years.
Eventually, Jason would start a modeling career which would garner the attention of distinguished director, Guy Richie. This would mark the beginning of his rise to prominence, as the commercial success of their movies Lock, Stock and Two Smoking Barrels and Snatch, opened the gates of opportunity. He would eventually star in lucrative blockbusters such as The Transporter franchise and The Fast and Furious franchise. Today, the action star is enjoying his time with his three-year-old son Jack Oscar Statham, who will surely have a bright future ahead of him.
Jean-Claude Van Damme & Kris Van Damme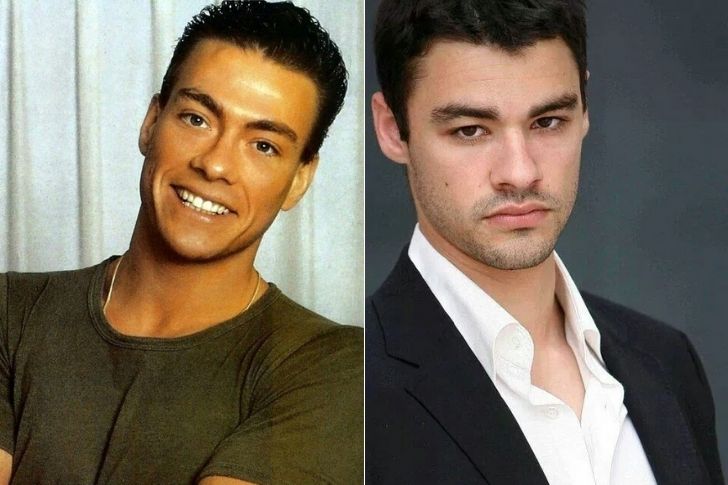 Jean-Claude Van Damme is one of the most prominent action stars during the 1990s. He earned worldwide fame for his performance in Bloodsport in 1988. The film, to this date, has a wide cult following and is still held to such a degree of esteem by action film enthusiasts. From then on, he would star in a string of lucrative movie blockbusters such as Time Cop, Double Impact, Hard Target, The Quest, and Maximum Risk, among many others. Apart from all the action films that he has done, he has also several dramatic roles which include JCVD, where he plays a semi-fictional version of himself and is set in his home country Belgium.
Today, his son, Kris Van Damme, or Kristopher Van Varenberg, is 33 years of age. At that age, Jean-Claude was at the height of his career starring in Hard Target. Kris is trying to follow in his footsteps. He has starred in several action films alongside his father such as Universal Soldier: Day of Reckoning and Assassination Games.
Jerry Hall & Elizabeth Jagger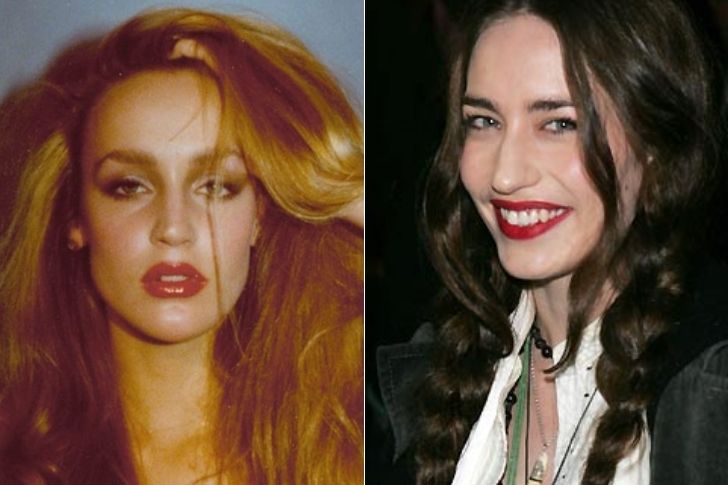 Jerry Hall is a distinguished model and actress who was famously married to rock star Mick Jagger. By 1977, was heading towards further success with her budding career in modeling. She had already appeared on the covers of over 40 magazine issues of prolific publications such as Vogue and Cosmopolitan. In 2016, she earned the Lifetime Achievement Award from the Fashion Group International Dallas to her credit. Apart from her fashion achievements, she has also starred in films such as Urban Cowboy and Tim Burton's Batman.
Nowadays, Jerry is happily married to Rupert Murdoch. Her daughter with Mick, Elizabeth Jagger has already made a name for herself in the fashion industry. Elizabeth is now 37 years old, and at that time, Jerry was focusing on her acting career starring in the British TV show Cluedo. Like her mother, Elizabeth has worked with some of fashion's greats such as Tommy Hilfiger and Sonia Rykiel. She has also modeled for some of the best fashion brands such as Mango and Gap.
Jessica Lange & Shura Barishnikov
Jessica Lange is one of Hollywood's most decorated actresses. She made her film debut in the classic King Kong back in 1976. During the 1980s, she would make her prolific rise to prominence after starring in films such as The Postman Always Rings Twice, Frances, Tootsie, and Music Box, among others. Throughout those years she had co-starred with the likes of Dustin Hoffman, Jack Nicholson, and Sam Shepard. She continued to further her career through the years and is still active to this day. To her credit, she is one of only 13 actresses to have won all three of the most esteemed awards in the industry. She has three Emmy Awards, two Academy Awards, and a Tony Award.
Jessica's daughter Shura is 40 years old. At that age, Jessica was at the height of her career just starring in Music Box, which earned her her sixth Golden Globe and fifth Academy Award. Nomination. Shura, on the other hand, has had a successful dancing career and is a distinguished dance instructor.
John Travolta & Ella Travolta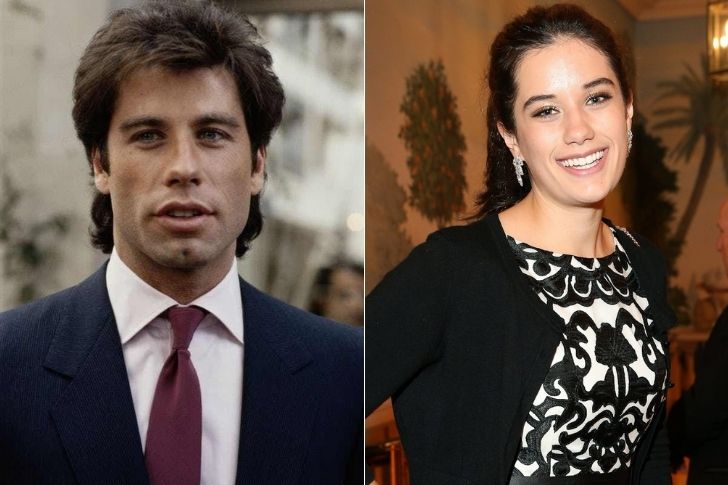 John Travolta is one of the most distinguished actors in Hollywood. We all love and know him from his iconic roles in films such as Saturday Night Fever, Pulp Fiction, and Grease. To his credit, he has won a Golden Globe Award for Best Actor for his compelling performance in Getting Shorty. He also has two Academy Award nominations for his performances in Pulp Fiction and Saturday Night Fever. Apart from his acting career, John is also an accomplished producer, having won an Emmy Award for the first season of the series American Crime Story.
Before all the fame and glory of John's Hollywood career, his humble beginning was a minor role on the show Emergency. Not long after, when he was 21 years old in 1975, he finally gained recognition for his role in the TV show Welcome Back, Kotter as Vinnie Barbarino. Today, his daughter, Ella Travolta is 20 years of age and has already starred in several films alongside her father, such as Old Dogs and Gotti.
Johnny Depp & Lily-Rose Depp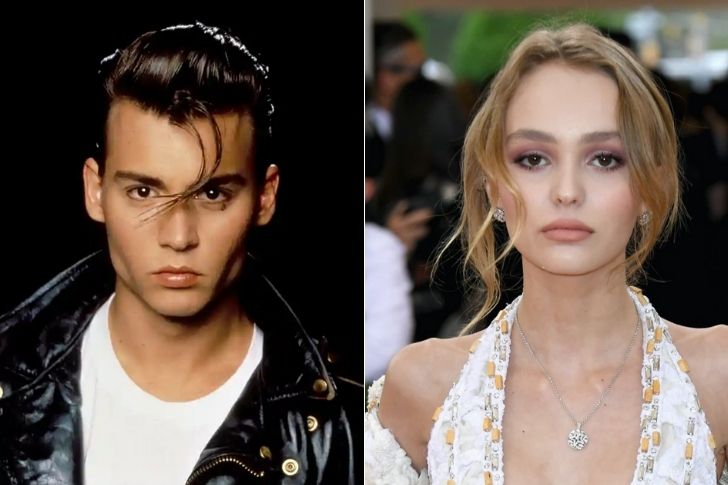 We all love and know Johnny Depp for his eccentric and enigmatic roles in films such as Fear and Loathing in Las Vegas, Donnie Brasco, Edward Scissorhands, Sleepy Hollow, and Ed Wood. His most lucrative blockbuster to date is the Pirates of the Caribbean franchise as Jack Sparrow, which spanned for five film releases and grossed a total of over $4.5 billion at the box office. He is currently one of the biggest film stars in the world and has even earned a spot at the Guinness World Records for being the world's top-paid actor, which just goes to show how good of an investment he is. He has won a Golden Globe Award for Best Actor for his performance in the movie Sweeny Todd: The Demon Barber of Fleet Street.
Johnny's daughter Lily-Rose is currently 21 years of age. When Johnny was at that age, he was just starting his career. He had just starred in the horror classic film A Nightmare on Elm Street. Lily-Rose, on the other hand, started earlier and is currently a budding young actress and model. She has starred in films such as Yoga Hosers, The King, Tusk, and Savage, among others.
Kate Hudson & Ryder Robinson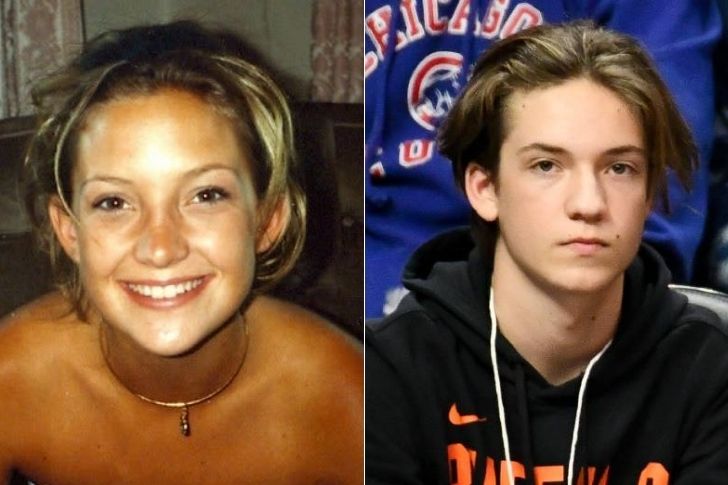 Kate Hudson is one of Hollywood's most recognizable actresses. At one point in her career, was a household staple for romantic comedies, starring in likes of Bride Wars, Fool's Gold, and You, Me, and Dupree. Her most successful performance to date is her iconic role in the movie Almost Famous, where she won a Golden Globe Award for Best Supporting Actress. She has also starred in several films which earned a greater degree of esteem such as Music, Marshall, and Mother's Day.
Today, Kate is 42 years of age, and her eldest son, Ryder Robinson is already 17 years old. He is living a normal teenage life in contrast to Kate's when she was a young aspiring actress. At that time, Kate was rearing to start her acting career and not long after, when she was 19 years old, she finally made her debut in the film Desert Blue.
Kelly Ripa & Lola Consuelos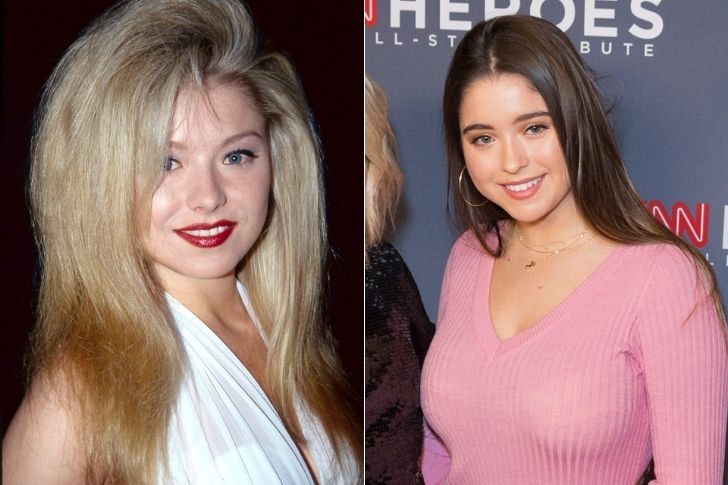 Mark Consuelos and Kelly Ripa recently celebrated 24 years of their marriage. In their two decades together, the pair have welcomed three kids—two sons and a daughter, Lola. Lola, who's now 19 years old, recently made a rare appearance on her mom's show, Live With Kelly and Ryan, where she talked about her life as a college student. She is currently a rising sophomore at New York University, where she is earning her music degree.
On the other hand, Kelly played Hayley Vaughn Santos on the soap opera All My Children before becoming a doting mom to her three kids. She was around the same age as Lola's when she began a television career. While filming the show, she met her future husband. Mark and Kelly were on-screen partners turned off-screen lovers. According to their co-stars, they managed to not let their relationship interfere with the show.
Kim Kardashian & North West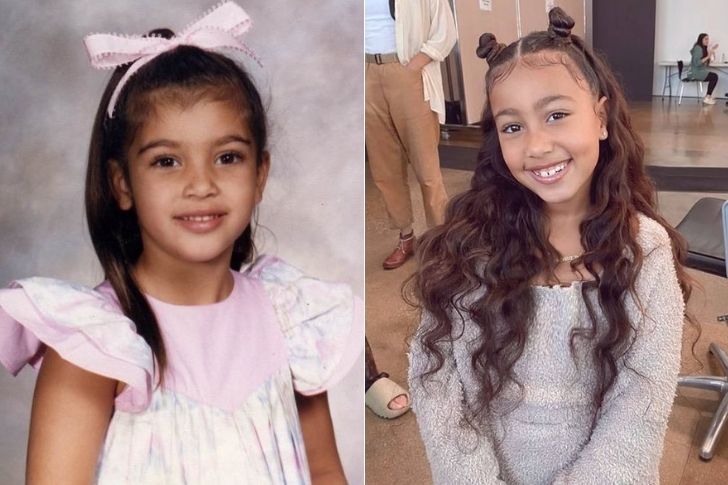 Kim Kardashian is a reality television star turned entrepreneur. She has become one of the world's richest celebrities with a high credit score and a net worth of $1.4 billion. Her growing empire and various endeavors have made her a notable figure, but she began her career humbly as a stylist to the stars, such as Paris Hilton.
Fast forward to many years, Kim married music mogul Kanye West, with whom she has four kids, including North West. Now age 7, West has embarked on many hobbies like ballet, piano, landscape painting, and violin. What's even more interesting is that she has small business ownership at such a young age! Her mom gave her a glimpse at what may be one of her future endeavors. Well, who would better manage her mom's businesses than her? She's an heiress, after all.
Khloe Kardashian & True Thompson
Born to lawyer Robert Kardashian and reality star Kris Jenner, Khloe rose to fame for her appearance on her family's series Keeping up with the Kardashians. She has two older sisters, Kim and Kourtney, and a younger brother, Rob. Aside from the show, she runs the DASH clothing store with her sisters. Kardashian has also signed many product endorsement deals.
In 2018, she and her partner Tristan Thompson welcomed their daughter named True, who recently turned three years old. While it's too early to tell what baby True's talent or hobby is, we could already assume, she has a knack for fashion and arts like her mom. Her mom recently put up a paint party for her with her cousins, and she enjoyed it so much. True also likes to play dress-up with her mom, and not long ago, they were spotted wearing cute matching ensembles.
Kourtney Kardashian & Penelope Scotland Disick
The Kardashian family first came to prominence when their patriarch, Robert, worked as an attorney to celebrities. The eldest child of the famous clan, Kourtney Kardashian, has also embarked on the family's fame and fortune. She established her own businesses, including a children's clothing boutique and a makeup collection.
In 2006, she began dating socialite Scott Disick. They have been in an on-again, off-again romance, and their relationship bore them three kids, including Penelope Scotland Disick. Sadly, in 2015, the couple announced their separation. Nevertheless, Kourtney has enjoyed raising her beautiful kids. Her 7-year-old daughter pretty much likes playing dress-up as she would invade her closet and wear her clothes. She also likes having a fancy tea party with her cousins. Some days, she would slip on a robe and head to the spa with her mom. Talk about luxury!
Floyd Mayweather & Koraun Mayweather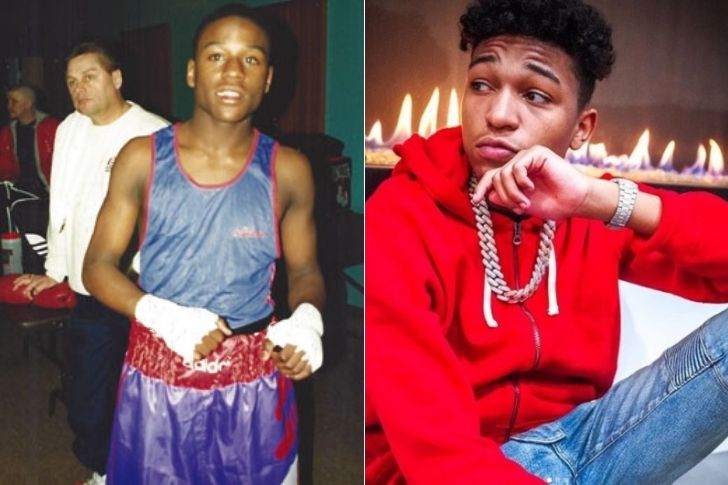 World-renowned boxing champion Floyd Mayweather came from a family of professional boxers. As a kid, he would watch his father train at the boxing gym. He then dropped out of high school and devoted himself to boxing. Throughout his career, he would go on to win championships in five various weight classes. As of writing, his record is a staggering 50 wins and 0 losses.
Floyd welcomed his eldest child, Koraun, in 1999. Now age 21, the younger Mayweather journeyed on a music career. As opposed to his family's talent in boxing, he launched music albums and has a massive following of more than 300,000 on his social media accounts. The young rapper, who stays relevant for entertainment lovers, enjoys making investments in his songs. He launched his own YouTube channel and published two rap music videos which have now garnered over 300k views.
Kris Jenner & Kim Kardashian
Kris Jenner is a media personality turned producer and businesswoman. She is widely known as the matriarch of the celebrity clan, the Kardashians. Kris was an American Airlines flight attendant before she married attorney Robert Kardashian in 1978. After they separated, she wed former Olympic athlete Bruce Jenner. Out of all her daughters, Kris is mostly compared to Kim Kardashian as they closely resemble each other.
In 2017, the matriarch co-founded a cosmetics company with her famous daughter. She and Kardashian named it KKW Beauty. Three years later, another cosmetics conglomerate acquired a 20% stake in their company, giving it a $1 billion overall valuation. Aside from the makeup business, the mother-daughter tandem also works together in their reality show, Keeping up with the Kardashians. The series is Kris' brainchild, and she would go on to become her children's career manager.
Kylie Jenner & Stormi Webster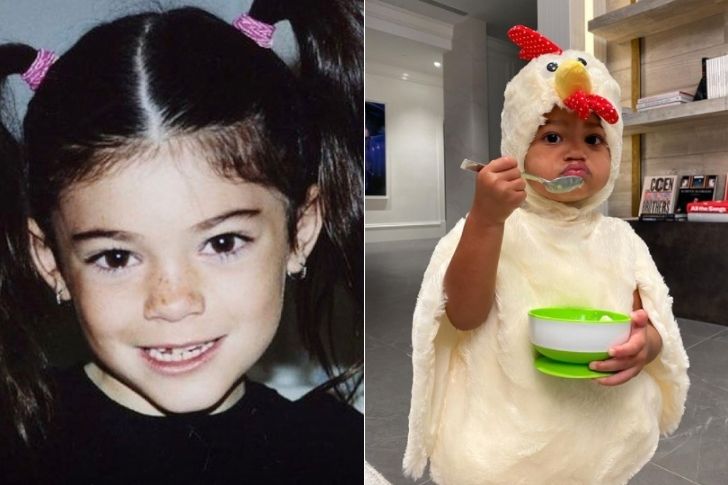 As any Kardashian-Jenner fan knows, Kylie Jenner gave birth to her and Travis Scott's baby, Stormi Webster, in 2018. The 23-year-old beauty mogul took her daughter in launching her 2020 makeup collection. Kylie revealed this is her and Stormi's first collaboration ever. Take note, Stormi recently turned three! This joint effort may be her first foray into the family's business empire, but Stormi has already partnered with her mom in appearing on the 2019 magazine cover of Harper's Bazaar Arabia.
Kylie has also been vocal about wanting her daughter to take over Kylie Cosmetics one day. In an interview, she said she hopes to pass her business ventures down to Stormi when she's older. She also hails her little girl as her "legacy." Kylie credits her mom and her older sisters as well for being excellent role models when it comes to parenting.
Liam Neeson & Micheál Richardson
Throughout his Hollywood career, Liam Neeson has over 90 film credits, with some of his notable roles being Qui-Gon Jinn in the Star Wars film franchise and Oskar Schindler in Schindler's List. He became interested in acting at only age 11, and by the late '70s, he made his film debut in Pilgrim's Progress. Liam married actress Natasha Richardson in 1994 and welcomed two sons, including Micheál.
Like his celebrity parents, Micheál Richardson also pursued the acting industry. He appeared alongside Natalie Portman in the 2018 drama film Vox Lux. He also worked with his father in the action thriller movie Cold Pursuit, where he portrayed as his father's on-screen son. Micheál is also set to play Michael Collins in the upcoming film The Rising:1916, which is the same role his father portrayed 20 years ago in Neil Jordan's biographical drama.
Lionel Richie & Miles Brockman Richie
Ask any music enthusiasts who they think are the '80s phenomenal artists, and we bet they'll tell you Lionel Richie is one of them. He is undeniably a gifted musician who became a household name with the group The Commodores. He later enjoyed a successful solo career. Did you know he graduated college with a degree in economics? Yes, he even intended on pursuing graduate school. Well, his passion for music surpassed his supposed corporate career.
In 1995, Lionel married Diane Alexander, with whom he has two kids: a daughter and a son named Miles. The younger Richie is working as a model and is currently signed to Wilhelmina Models. He was a part of the 2019 New York Fashion Week and designer Philipp Plein's show. We're not sure if he inherited his dad's music skills, but we do know that he's a fan of boxing.
Lisa Bonet & Zoë Kravitz
American actress Lisa Bonet is widely known for portraying Denise Huxtable in The Cosby Show. She was only in her teenage years when she began a show business career. Outside acting, she also competed in beauty pageants. Towards the end of the 1990s, Lisa landed supporting roles in movies such as High Fidelity and Enemy of the State. At age 20, she exchanged wedding vows with musician Lenny Kravitz. A year later, she gave birth to Zoë.
The entertainment scene has been Zoë Kravitz's environment as a child. Having celebrity parents, she decided to enroll at an acting school. She landed her first film role in her teenage years, with an acting credit in the 2007 comedy No Reservations. She rose to prominence by the early 2010s, with notable roles in the Divergent series and the 2015 post-apocalyptic action Mad Max: Fury Road.
Lisa Rinna & Delilah Belle Hamlin
Lisa Rinna has a television career that has spanned decades, with major roles on two hit soap operas, Melrose Place and Days of Our Lives. Rinna initially pursued modeling in the '80s, a career that eventually led her to roles in commercials. It was only a short time before her big break, and her acting career began in earnest. Never content to work only as an actress, Rinna has been dividing her time between acting and various hosting gigs. She also launched a clothing business investment in Sherman Oaks.
She married actor Harry Hamlin in 1997, and the two have been blessed with two daughters, including Delilah Belle Hamlin. Like her mom, the young Hamlin has been making waves in the fashion and modeling world since she was a teenager. She and her sister have also established their own fashion collection called DNA.
Lori Loughlin & Olivia Jade Giannulli
Lori Loughlin is widely recognized for her role on the hit sitcom Full House. She began her career at the age of 11 when she landed a job as a print model. During the mid and late '80s, she starred in a number of television guest spots and feature films. Loughlin was formerly married to investment banker Michael R. Burns for seven years until 1996. She then tied the knot with fashion mogul Mossimo Giannulli in 1997.
The couple has two daughters together, including Olivia Jade Giannulli. While in high school, the young Giannulli started a social media career on Instagram and YouTube, with both accounts amassing over one million followers each. Her social media accounts are monetized through commercial advertisements and endorsements. The 21-year-old Internet star said that her mom's experience with makeup in the Hollywood industry helped spark her passion for beauty.
Magic Johnson & EJ Johnson
Earvin "Magic" Johnson Jr. skyrocketed to fame for his basketball career. After winning championships both in high school and college, he was picked the first overall player in the NBA Draft in 1979 by the Los Angeles Lakers. For 13 seasons, he played as a point guard for the team. He is also the ex-president of the Lakers' basketball operations. In 1991, Johnson married Earlitha "Cookie" Kelly. By the following year, they welcomed their son, EJ.
Born Earvin Johnson III, EJ attended New York University, where he earned his degree in hospitality. He later ventured into show business and appeared in Rich Kids of Beverly Hills. He also joined E! News in 2014 as a commentator and a news personality, covering shows for the renowned New York Fashion Week. In recent years, EJ has also discussed his future plans in pursuing a fashion career.
Martha Stewart & Alexis Stewart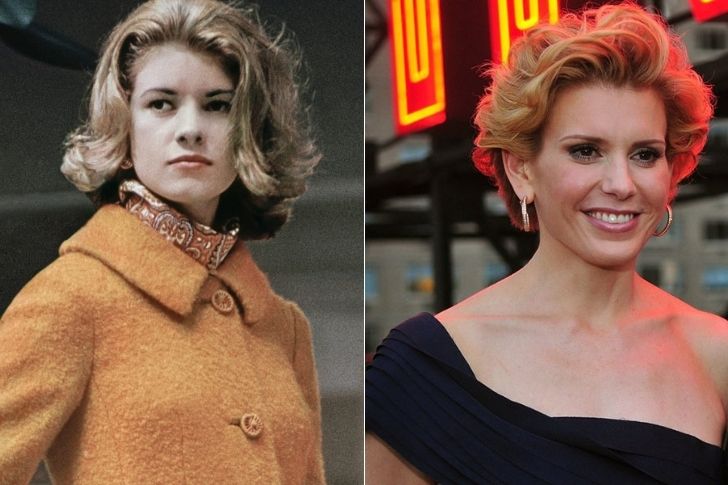 Martha Stewart has a business conglomerate that includes magazines, TV series, and home products. When her company went public, she became the first self-made female billionaire in the United States. Before that, Stewart worked as a model during her teenage years, and she also modeled during college. It was around this time that she met Andrew Stewart, whom she married in July 1961. They gave birth to their only child, Alexis, four years later.
The young Stewart majored in English at Barnard College, the same school her mom had attended. Like her mom, she also entered the entertainment scene and co-hosted the show Whatever with Alexis and Jennifer. She then launched a television show called Whatever, Martha, in an attempt to recreate her mom's projects. In one episode, her mom appears alongside her. The 55-year-old media personality was formerly married to lawyer John Robert Cuti.
Mel Gibson & Milo Gibson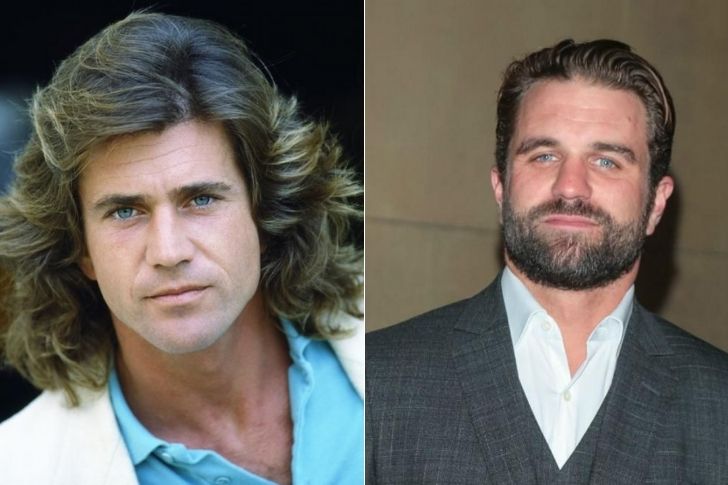 Australian-American actor Mel Gibson has launched a career in screenwriting, directing, and producing films. He attended Sydney's National Institute of Dramatic Art, working on stage before making his mark on the Australian film scene. His first major movie roles were in the 1970s Mad Max series, which Gibson instantly began working on right after earning his college degree. Not long after, he worked in the American film industry. During this time, he married Robyn Moore, with whom he has seven children, including Milo Gibson.
The 30-year-old Gibson first worked as an electrician before launching his acting career. Thanks to his dad, he was cast in his 2016 film Hacksaw Ridge. It seems that he developed a tremendous interest in the craft because he receives movie roles every year. Since his debut in 2016, he now has eight films to his name.
Melanie Griffith & Dakota Johnson
Melanie Griffith has been active in the entertainment industry for more than fifty years. On the other hand, her daughter, Dakota Johnson, has achieved mainstream success through her lead role as Anastasia Steele in the Fifty Shades film series. At 31 years old, it's safe to say that Dakota had reached the same level of success that her mother did when she was her age. Griffith made her start mostly appearing in thriller films during the 60s and 70s, but her career lifted off during the 1980s. After a temporary stall in the early 80s, Griffith made a comeback in the thriller Body Double. A slew of successful films followed, like her performance in Something Wild, released in 1986, which received critical acclaim and got her a Golden Globe nomination.
In 1988, at age 31, Griffith achieved mainstream success in Working Girl. Aside from being a box-office hit, Griffith's performance in the film was given credit through her nomination for an Oscar for Best Actress.
Meryl Streep & Mamie Gummer
Meryl Streep is one of the most celebrated actresses in the world, with a career spanning five decades and countless recognitions. Similarly, her children have carved successful careers in their own right. In particular, Streep's eldest child, Mamie Gummer, has achieved considerable success at age 37. During the same age as her daughter, Streep has already become an award-winning star. She won her first Primetime Emmy in 1978 as a result of her performance in the miniseries Holocaust. A year later, she won her first Oscar, for Best Supporting Actress, for her performance in Kramer vs. Kramer. In 1982, the Academy gave her performance in Sophie's Choice credit through winning an Oscar for Best Actress. She became more famous when she appeared in Out of Africa in 1985, her biggest commercial success.
Meanwhile, Gummer has managed to play roles in critically acclaimed series and films such as True Detective, Blood of Zeus, and The Good Wife.
Michael Douglas & Cameron Douglas
Michael Douglas is an actor famous for his performances in Wall Street, Romancing the Stone, and the Ant-Man series. His son, Cameron, seems to have followed his father's footsteps by being an actor. However, at age 42, Cameron is only starting to recover his career after going through some rough patches in the '90s. It was in contrast to his dad, who was experiencing his meteoric rise to Hollywood stardom. At age 42 in 1986, Douglas was already well-known for his performance in Romancing the Stone and producing the award-winning One Flew Over the Cuckoo's Nest.
To his credit, Douglas won his first Oscar for Best Picture, and his lead actor, Jack Nicholson, won his own Oscar for Best Actor. Douglas' other notable works, both acting and directing, at that point include The China Syndrome, The Streets of San Francisco, and The Jewel of the Nile.
Michael Jackson & Michael Jr.
Michael Jackson was one of the most prominent and successful musicians of all time. His smooth dance moves and iconic voice earned him the admiration of millions around the world. Partially, this was the reason why he often took his children out of the spotlight. Jackson's eldest son, Michael Jr., became more open about his life with his father recently, at age 24. This was in contrast to Jackson, who was only starting to cement his superstar status at the same age. Already, Jackson was known for his successful albums during the 1970s. During the same age as his son today, Jackson became world-famous after releasing his sixth album, Thriller, in 1982. Its seventh song, titled the same as his album, became iconic, and its music video, released in 1983, is given credit like the one that solidified Jackson's moves and his on-stage persona.
Other songs from the album, such as Billie Jean, Beat It, and Wanna Be Startin' Somethin', became highly successful on their own.
Michael Jordan & Jeffrey & Marcus Jordan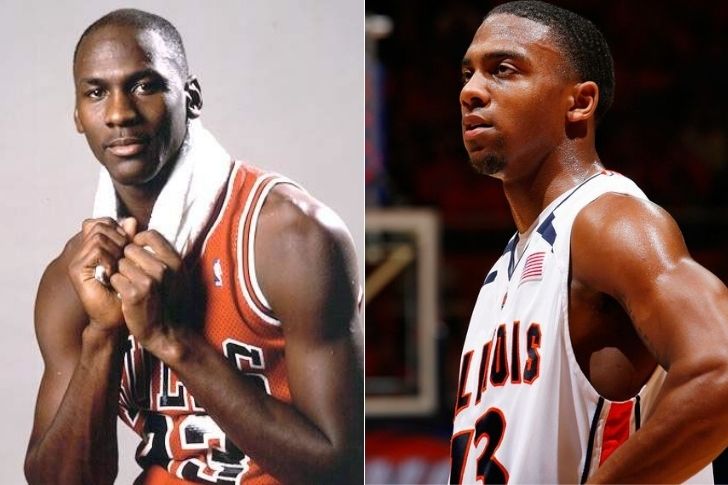 Basketball fanatics worldwide regard Micahel Jordan as one of the greatest basketball players of all time, if not the greatest among them all. Jordan's highly charismatic presence, along with his brilliant performance, won him countless fans throughout his career. His two eldest sons, Jeffrey and Marcus, have also played basketball, just like their dad. Jeffrey, in particular, played for the University of Illinois and the University of Florida. However, at age 32, he has since retired from the sport to focus on life after basketball. In contrast, his father saw his greatest success when he was his age.
As a player for the Chicago Bulls, Jordan received massive credit for rallying the team for three straight championships from 1991 to 1993, the team's first three-peat. Aside from that, Jordan had won two Gold Medals when he played for the U.S. National team during the 1984 and 1992 Summer Olympics.
Michelle Williams & Matilda Ledger
Michelle Williams is a long-time award-winning actress who started acting when she was still young. She is famous for her stellar performances in Brokeback Mountain, Dawson's Creek, and Manchester by the Sea. On the other hand, her daughter, Matilda, has managed to evade the spotlight and live a normal life, with the help of her mom, at age 15. That is, of course, very different from the life Michelle lived when she was 15. Williams started her career in theater. Her first on-screen appearance was in 1993, at age 13, in an episode of Baywatch. She made her film debut in Lassie a year later. In 1995, she made an appearance in the sci-fi film Species.
In later years, Williams gives credit to her early childhood career as a significant influence on her later life and how she brings up her daughter, Matilda.
Naomi Judd & Wynonna Judd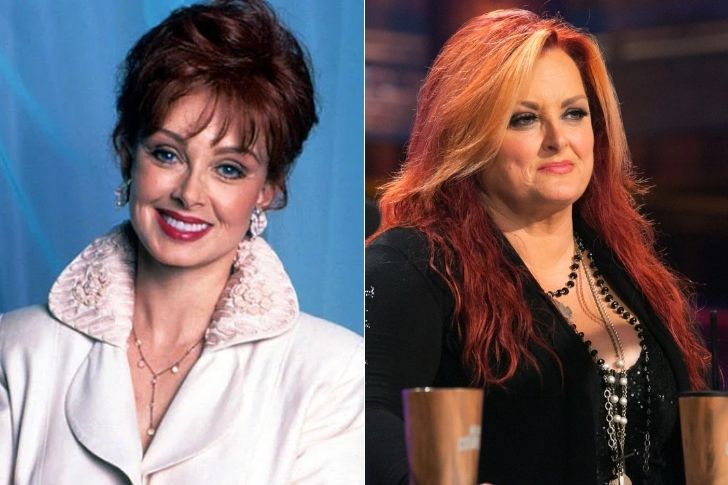 Naomi Judd is a country singer best known as one of the two members of the singing duo, the Judds. Along with her daughter Wynonna, they started to perform back in 1983 and achieved considerable success over the years. The duo disbanded in 1991, and Wynonna, at age 56, made a name for herself as a solo artist. Unfortunately, Naomi was also the same age as her daughter when she discovered a chronic medical condition that forced her to put her singing career to a stop. Fortunately, the duo ended on a high note, with their farewell concert given credit as one of the most-watched musical events in cable PPV history. At its disbandment in 1991, the Judds sold an estimated 20 million albums, bringing them to the height of their success and fame.
During that same year, Naomi founded a charity called the Naomi Judd Education and Research Fund, which focused on raising awareness on Hepatitis C.
Nicole Richie & Harlow Madden
Nicole Richie is a fashion designer and TV personality who became first widely known for her close association with Paris Hilton and her appearance on Hilton's show The Simple Life. Richie is the adopted daughter of legendary singer-songwriter Lionel Richie. Nicole has been successful in fashion, as she made investments and collaborations with various brands. Her eldest daughter, Harlow, has grown up quite well at age 13. Like her mother, she is well-loved within the family. Nicole was adjusting to a new life following her parents' separation when Nicole was the same age as her daughter.
Despite the circumstance, Nicole was still taken care of by her adoptive parents. She was legally adopted by Lionel and Brenda in 1990 when Nicole was just nine. Lionel even credited Nicole as the inspiration for his 1986 hit song Ballerina Girl.
Nicole Kidman & Isabella Jane Cruise
Nicole Kidman is one of the most prominent actresses of her generation. Her performances in various films such as The Hours, Eyes Wide Shut, and Moulin Rouge! were all well-received. She was given credit due to her performances via numerous accolades, including an Oscar and two Primetime Emmys. Her high-profile relationships with Tom Cruise and her current husband, singer-songwriter Keith Urban, were also extensively followed in the media. Contrast this with her first child, Isabella Jane Cruise, who mostly stayed away from the spotlight. At age 29, Cruise's life couldn't be any more different than her mom's when she was 29.
When Kidman was at the same age as Cruise in 1996, Kidman was ascending into stardom. Her appearance opposite Val Kilmer in Batman Forever in 1995 gained her recognition. The same year, Kidman starred in Die For, earning her a Golden Globe.
Phil Collins & Simon Collins
Phil Collins is one of the most famous singers in the world. After leaving the band Genesis, he embarked on a solo career, which made him famous and successful. His notable songs include Another Day in Paradise, One More Night, and You'll Be in My Heart, earning Phil an Oscar credit for Best Original Song. His children have also embarked on their successful careers. Simon, in particular, has followed in his father's footsteps and has been successful at age 44. During the same age as his son, Collins was still a member of Genesis as a drummer. The band conducted a world tour, which saw them performing 165 shows between 1994 and 1995.
Previously, Collins and the band achieved massive success with their album …But Seriously. The album topped sales records in the UK, Germany, and the US. Collins left the group in 1996 to embark on his solo career.
Robin Wright & Dylan Penn
Robin Wright is currently well-known for her role as Claire Underwood in the Netflix series House of Cards, for which she received several credits for. However, her career has stretched since the 1980s, with her hit shows and films like Santa Barbara, The Princess Bride, and Forrest Gump. Wright's daughter with actor Sean Penn, Dylan, is a successful model and actress. At age 30, she has posed for treats!, Maxim, and L'Officiel and walked in the 2014 Paris Fashion Week. When Wright was at the same age as Dylan, her movie Moll Flanders was just released. It went on to gain Wright Satellite Award and Screen Actor Guild Award nominations.
Wright had already become a well-known actress through her role as Jenny in Forrest Gump back in 1994 and as Kelly Capwell in the TV series Santa Barbara. She soon got another role in She's So Lovely, which was well-received.
Sean Penn & Hopper Penn
Sean Penn is famous for his movies such as Mystic River, Milk, and Into the Wild. Penn is also well-known for his political activism, which is given credit for creating numerous disputes over the years. Penn has two children, Dylan and Hopper. Hopper, at age 27, has had modest success as an actor. When Penn was at the same age as his son in 1997, Penn started to attract attention as an emerging Hollywood talent. That was, of course, thanks to his movie Dead Man Walking. The movie got him an Oscar nomination and won the Best Actor Award during the 46th Berlin Film Festival. Previously, Penn starred in three highly acclaimed films. These were At Close Range, State of Grace, and Carlito's Way.
The list of his acclaimed performances proved to be pivotal to Penn, as he got more roles in highly acclaimed films later on.
Sharon Osbourne & Aimee Osbourne
Known as the wife of legendary musician Ozzy Osbourne, Sharon Osbourne has been a fixture of reality TV. She, with the rest of her family, became famous for their TV series The Osbournes. The chronicling of their lives often made headline news and caused stirs among the media. Her children, in particular Aimee, often derided the show after it ended in 2005. The children have their careers, with Aimee, at age 37, becoming a successful actress and singer. When Sharon was at the same age as Aimee, she was Ozzy's manager.
She was given credit for creating the Ozzfest, a summer touring festival, in 1996. It proved to be a successful endeavor by the Osbournes. Sharon also created Sharon Osbourne Management, a talent management agency. Sharon managed many artists such as Gary Moore, Lita Ford, and The Smashing Pumpkins through it.
Stephen Baldwin & Hailey Baldwin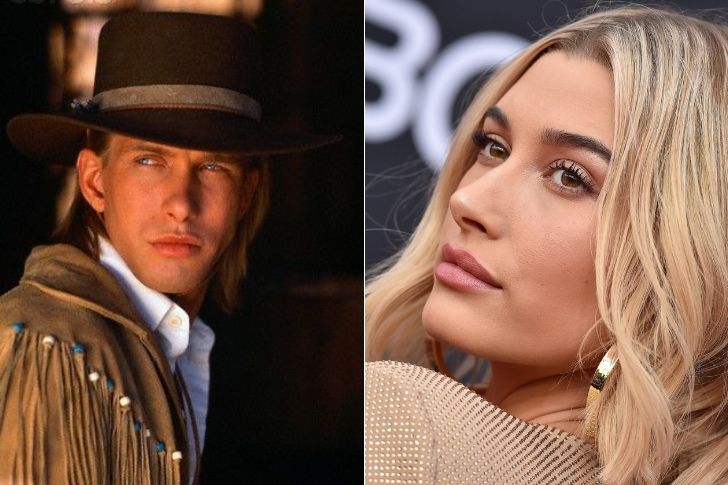 While he is not as famous as his brother Alec, Stephen Baldwin still has a respectable acting career. He is also well-known for his political and religious activism, which made the news. His children, Alaia and Hailey, have successful careers as models. Hailey, in particular, is well-known as the wife of pop superstar Justin Bieber. At age 24, Hailey has already modeled for various magazines such as Vogue, W, and L'Officiel. When her dad was the same age as her, Stephen focused on his movie, Posse, released in 1993. Before that, Baldwin had a minor role in the film Born on the Fourth of July. At this time, Baldwin didn't have a breakthrough role.
However, in 1995, he managed to have just that. He became well-known for starring in The Usual Suspects. Stephen and his co-stars later earned credit for the film's success.
Steven Spielberg & Jessica Capshaw
Steven Spielberg has rightfully earned the credit for being one of the most influential filmmakers of all time. His films have become box-office hits and acclaimed pieces. His children have also made their successful careers. His adopted daughter, Jessica Capshaw, is a successful actress best known for her role as Arizona Robbins in Grey's Anatomy. At age 44, Capshaw has remained active in the industry. When her father was 44, Spielberg was already a force to be reckoned with. His streak of highly successful movies during the 1970s and 1980s cemented his status among Hollywood legends. One of his latest movies was the third movie in the Indiana Jones franchise, Indiana Jones and the Last Crusade.
Like his two previous Indiana Jones films, the movie was a blockbuster hit and received praise from critics. The movie won an Oscar for Best Sound Effects Editing.
Steven Tyler & Taj Monroe Tallarico
Steven Victor Tallarico, or better known as Steven Tyler, is an American singer-songwriter, musician, and actor. He is best known as the lead singer of the rock band Aerosmith. After two failed commitments, the star entered his third marriage in 1988 with Teresa Barrick. The singer shared two children with Barrick, one of which is Taj Monroe Tallarico.
Taj is already in his thirties, and just like his father, he has put his investments in music. He is an American singer-songwriter and multi-instrumentalist and is best known as the lead singer and rhythm guitarist of the rock band Hair Raiser. Now, doesn't that sound familiar? It looks like the younger Tallarico is on the same path his father walked on! At this age, Tyler was already basking in the Aerosmith's success. Tyler also made his acting debut in the film Sgt. Pepper's Lonely Hearts Club Band during this time. If history's going to repeat itself, we'll soon see the younger Tallarico on our screens!
Susan Sarandon & Eva Amurri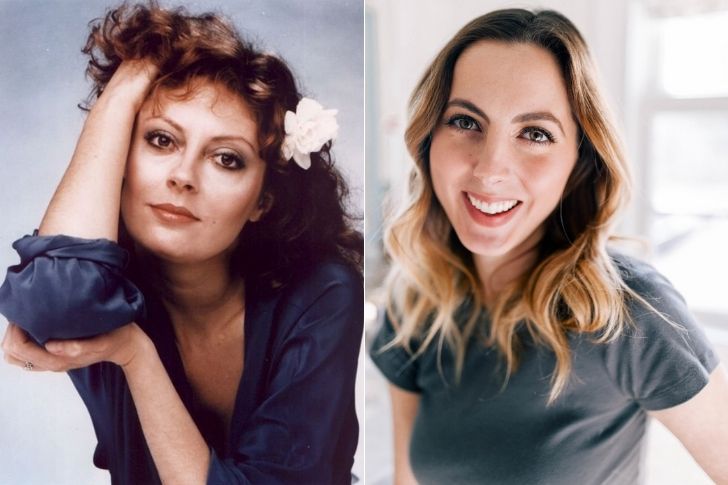 Susan Abigail Sarandon, or simply known as Susan Sarandon. is an American actress and producer. The star was born on October 4, 1946, and she started her career in 1970. Since then, she has racked up roles and recognitions to her credit.
In 1984, the actress got together with Italian film director Franco Amurri. The following year, the two welcomed their only child, Eva Amurri. Later on, Eva followed in the footsteps of her mother and entered the industry as an actress. Currently, Eva is 36 years old. Just recently, she gave birth to a little boy named Mateo Antoni, and it seems the actress took a little break from the spotlight to focus on raising the youngster. At this age, Saradon already played the lead role of Marjorie in the 1982 off-Broadway production in Extremities, where she later received a Drama Desk Award nomination. Their 30's may have looked a little different, but they sure showed us different ways of hustling!
Tom Hanks & Colin Hanks
There is no doubt that Tom Hanks is one of the most recognizable film stars in Hollywood history. He is even regarded as an American cultural icon! The actor was born in 1956, and he started his career in 1977. At the same time, he also welcomed his son Colin Hanks.
Later on, the younger Hanks followed in his father's footsteps and entered Hollywood. Currently, Colin is already 43. Just recently, the film How It Ends came out where he played a minor role. In 1999, when the older Hanks was also in his forties, The Green Mile and Toy Story 2 came out. In general, the two Hanks have already garnered many roles to their credit in their forties. If we're going to base Colin's career with his father's, then there's undoubtedly a lot more from him in the future! How exciting!
Uma Thurman & Maya Hawke
Now let's talk about Tarantino's muse, Uma Thurman. The star, undoubtedly loved by the cameras, is an actress and a model. However, she is also a writer and producer. She was born in 1970 and started her career in 1985.
In 1998, Thurman married American actor Ethan Hawke, and in the same year, the two welcomed their first child, Maya Hawke. Later on, Maya also stepped into the acting industry like her parents. She is currently 22 and, to some degree, still new to the industry. Recently, she appeared as a musical guest for the first time in her career. On the flip side, the British adventure film Robin Hood came out on May 13, 1991, starring a 22-year-old Uma Thurman. It seems the mother-daughter tandem is taking on the same path. If that's so, then we wish Maya the same success Thurman has attained!
Will Smith & Jaden Smith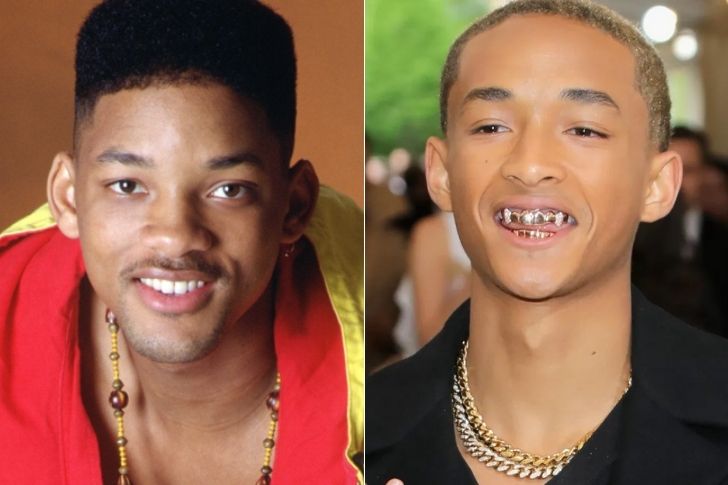 Will Smith and Jaden Smith are probably some of the most prominent father-son duos in Hollywood. In a lot of ways, the two have trekked the same path in the entertainment industry. One of their most iconic projects would be The Pursuit of Happyness, where the younger Smith played the son of his father's role. With credit to the two's impeccable performance, the film became a sure-fire hit.
Right now, Jaden is already 22 and has clearly made a name from himself. Just recently, he released his third studio album, CTV3: Cool Tape Vol. 3. Around the same age, the older Smith also released a second studio album, Parents Just Don't Understand. Later on, the single won a Grammy in 1989. Could this be a foreshadowing that Jaden would also receive a Grammy soon? Maybe. For now, we'll just have to wait and see how his career pans out.
Yolanda Hadid & Gigi Hadid
Yolanda Hadid is now known as a Dutch-American television personality, but she was also once a model. In 1994, the model married real estate developer Mohamed Hadid. In 1995, they welcomed their daughter Jelena Noura Hadid or now better known as Gigi Hadid. She also entered the world of modeling and is undoubtedly one of the most successful models of her time.
Currently, Gigi is 26 years old, and she just recently became a parent with her current partner Zayn Malik. At around the same age, Yolanda just made her debut in acting when she appeared in 1st & Ten, where she played the role of Betty Ann. They may have taken on different paths in their late 20's. Still, the mother and daughter tandem faced the same adventure of stepping on uncharted land. May they both succeed wherever they choose to put their investments in next!
You've Reached The End